Discover more from Happy Surprises
Weekly art exploration, prompts, to ignite your creativity, and rediscover the joy of painting outside the lines. Join me as I share my creative process and practice
Overcoming the fear of painting people
Finding simplicity in basic figures is surprisingly easier than one initially believes.
Hi! Happy Surprise is a weekly newsletter about creativity and creative practise. If this creative space inspires you, please consider sharing the love and leaving a comment. Thank you for reading. Susan x.
Back when I began my 100-day project in late September, I knew I wanted to break free from my comfort zone and reintroduce figurative art and portraits into my creative process. Now, with a new month already underway, I'm happy to see that I've taken this little step forward and pushed past my comfort zone.
You see, I've got this vision of a few paintings I'm wanting to explore, and there's a woman taking the spotlight in my imagination. The last time I strolled through a museum (just last week at the Rijksmuseum), a portrait of a woman from the 1900s immediately captivated my attention. And despite my deep love for abstract art and painting flowers, my collection of postcards is filled with portraits and figurative pieces. It's funny how often we search far and wide for inspiration, only to realise it's usually right there beside us or within us.
For the longest time, diving into figurative art felt incredibly intimidating and a bit scary because its easier to fail and mess up. I can't even remember the last time I ventured into including them into my artwork. You could say that the artworks from this week could easily be better described as silhouettes or warm-up exercises.
Nevertheless, taking this little step and giving it a shot not only builds confidence but also ignites fresh energy to explore even further. Who knows, I might look back and cringe at my current work in next year, but hey, that's all part of the creative journey, right?
Without further ado, here are days 29-35 of the 100-day art project, featuring silhouettes and the return of people!
Maintaining a freehand approach with a limited colour palette and relying on black ink brought about a good mix of challenge and enjoyment. It leaves no room for overthinking or the need use pencil or sketch before painting. In fact, I intentionally steer clear of pencil when I paint freestyle or engage in such spontaneous sketches. This doesn't imply that I don't ever study sketches with pencil; It's just my way of nurturing spontaneity and a sense of flow in my artwork.
While urban sketching may not be my primary artistic pursuit, I found it to be valuable stepping stone in looking at perspectives and people in environments. Yet, my current preference still lies in the joy of mixing colours, letting gouache create interesting effects as it flows freely with the harmonious blend of black ink.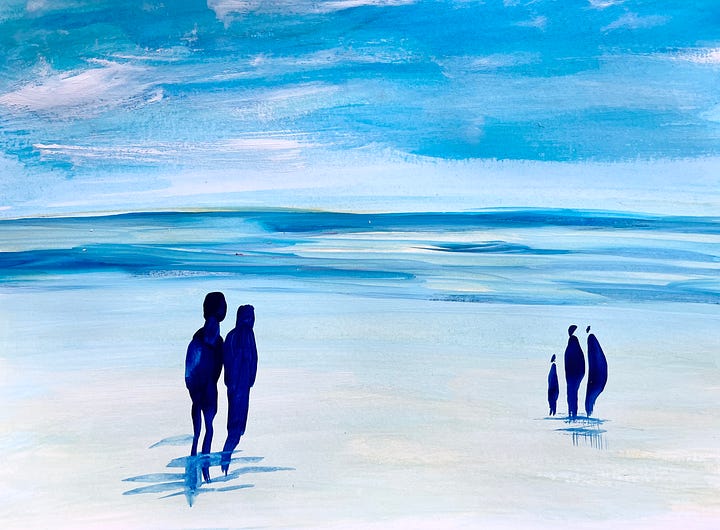 It's rather amusing that in my last post, I wrote about not being entirely sold on the idea of painting the sea; 'As much as I love the sea, I'm still not convinced that painting the sea is for me. I say this now, so I'll keep the curiosity open and maybe come back to it later…'
And here I am, not even a week later, sharing a seaside painting featuring people strolling along the beach. It's a vivid reminder that one should never say "never" in their creative journey. Art has a way of leading us to unexpected places, showing us that it's okay to evolve and choose our subjects. It just starts with a single brushstroke, a bold but little step forward towards our creative vision.
---
Dear creative, artist, thank you for reading. I'd love to know are there any creative leaps you would like to try? Please share your thoughts in the comments below. And feel free to share.
Happy Surprises is a reader-supported publication. To receive new posts and support my work, consider becoming a free or paid subscriber.