Discover more from Happy Surprises
Weekly art exploration, prompts, to ignite your creativity, and rediscover the joy of painting outside the lines. Join me as I share my creative process and practice
Summer's End: Navigating the Return from Wanderlust
Art Prompt #3: Finding inspiration in Watercolour
Welcome to Happy Surprises, your free weekly newsletter! If you find inspiration and joy in this creative space, why not share it and try out the latest art prompts? Thank you for reading.
COMING SOON: My 100-day art project kicks off on September 22nd, aiming to spark inspiration and possibly gather fellow creatives on this collective journey! Why? As this season unfolds, I need some fresh creative spark and productivity booster. It means staying consistent with my art practice, all while indulging in my obsession with challenges.
Summer, my absolute favourite season, gifts us with flowers popping up everywhere, from gardens to the coast. The days are filled with long, vibrant moments you never want to end. It's warm enough for dining in the garden, painting outdoors becomes an exciting adventure, and you can swim in the sea almost every day!
After an incredible 5-week road trip along the stunning UK coast, transitioning back to my regular routine has been a challenge. I acknowledge how fortunate it is to have had this long break, so no complaints here! But each time I return, whether it's been a few short days or several delightful months away from my desk. I can't help but feel a mix of reinvigorated and buzzing with inspiration and a slight hint of wishing I was back on the road.
My inbox is overwhelming and my unpacking still needs to get done (I'm glancing at my summer clothes piled up in the corner of my eye and feeling sad that it's gotten cooler, knowing I won't be using them anytime soon).
So figuring out how to get back to a "normal daily' routine after a period of relaxation needs some extra attention.
Kickstart any holiday return:
Take it slow initially; don't expect instant super productivity. Start small and ease into work gently.

Embrace shorter office hours; it's okay not to be 100% productive from the get-go. Take breaks if your mind wanders.

Dedicate a buffer day to catch up on tasks and continue to infuse your creative spirit into your days and projects

Tidy up your desk or studio and declutter if possible. Reorganise supplies, and find a home for your new sketchbook collection (yes, I couldn't resist adding more during my travels!).
2 Watercolour Art Prompts: Play + get lost with circles
Using watercolour paint, explore this medium in a simple and gentle way by selecting one colour of your choice — there's no need to worry about decision fatigue; the color choice is flexible. Grab your largest paintbrush to avoid getting too caught up in details. Our focus isn't on perfecting circles but rather on enjoying the process of creating round shapes at your own pace. You can spend as little as 5 minutes or even 15 minutes, depending on your preference. Begin anywhere on the page and let the brush guide your movements. Enjoy!
Supplies:
Watercolour paint

Paintbrush

2 water jars

Paper

Optional: Preferably masking tape or washi tape

Tissue, napkin, or cloth
🖊️ Grab some paper and your watercolor palette and pick one colour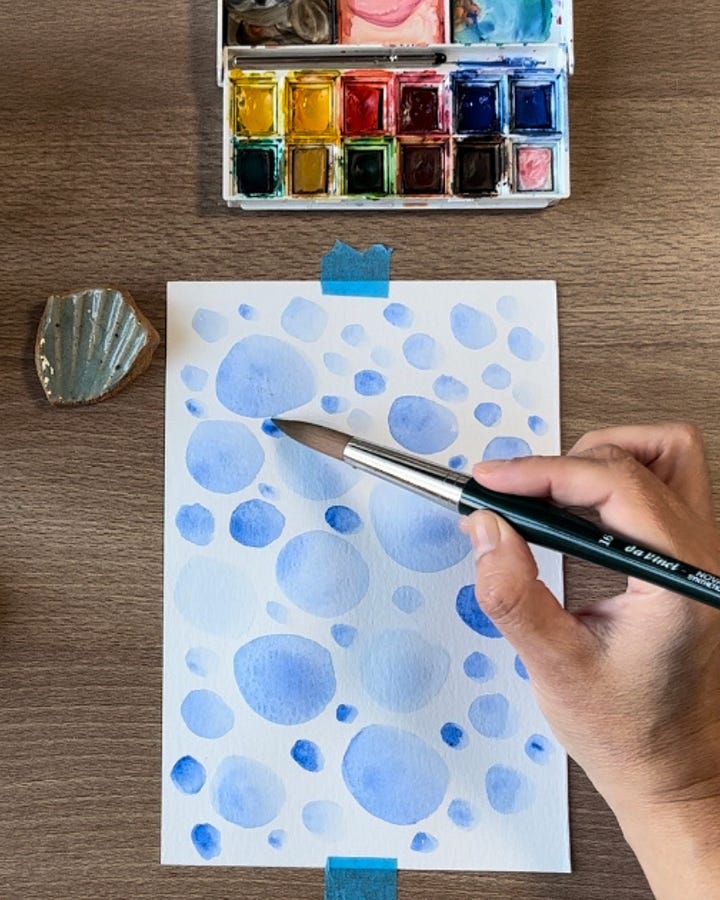 Prompt 1: Follow along with the video (6:46 mins)
Prompt 2: Follow along with the video (7:02 mins)
Bonus Prompts: 2 Additional Circle Prompts and Painting Ideas
These prompts are designed for those who want to explore circle ideas further, whether using watercolor paints or any other medium. You can introduce new colors or add layers to your creations. For these types of paintings, it's best to use heavier paper that can handle extra water.
Which art prompt are you most likely to try out?
Thanks for reading! If you liked it, subscribe to receive inspiration + more prompts in your inbox. Happy Surprises is a free weekly newsletter!