Discover more from Happy Surprises
Weekly art exploration, prompts, to ignite your creativity, and rediscover the joy of painting outside the lines. Join me as I share my creative process and practice
Claim your creative space
Why wait for the perfect studio? Claim your space and embrace spontaneity for more creativity.
Hi, I am Susan! Welcome to Happy Surprises, your free weekly newsletter! If you find inspiration and joy in this creative space, why not share it or try one of the creative prompts? Thank you for reading.
As someone who frequently paints while on the road (I'm editing this from Zeeland, the Netherlands after a swim at the beach), away from my designated creative space. So it feels fitting to write about this, especially as I prepare for the upcoming 100-day art project starting next week!
Do you jump at the chance to visit art studios as well? Does scrolling through stunning studio pics on social media give you a teensy bit of studio envy?
I have a private Pinterest board dedicated to art studios that I haven't looked at for years.
But now, I cherish my own little art studio space, especially when it's tidy, lol! I wouldn't dare to say it's Pinterest-worthy and honestly, it's been a work in progress for a good few years, but it's my little creative haven that makes me happy.
Sure, artists don't necessarily need an art studio to create. But here's the thing: the biggest roadblock that often keeps people from painting or creating consistently is not having a dedicated space for it. I know this because this was my excuse not to sit and paint on regularly basis.
Having a creative space isn't just about the the comfort of the physical location. I paint a lot during my long and short travels from my van to a quiet spot by the sea. I've had to learn to plan ahead, be organised but also adapt to new situations.
When you're ready to dedicate space for your passion, I promise it'll turn the volume up on unit creative practice and it'll amplify the joy of being more creative than ever before, turning up the volume on your practice.
Shaping your creative space is akin to planting a flag, declaring your commitment to your creative journey and self-expression.
Artist home studios I have visited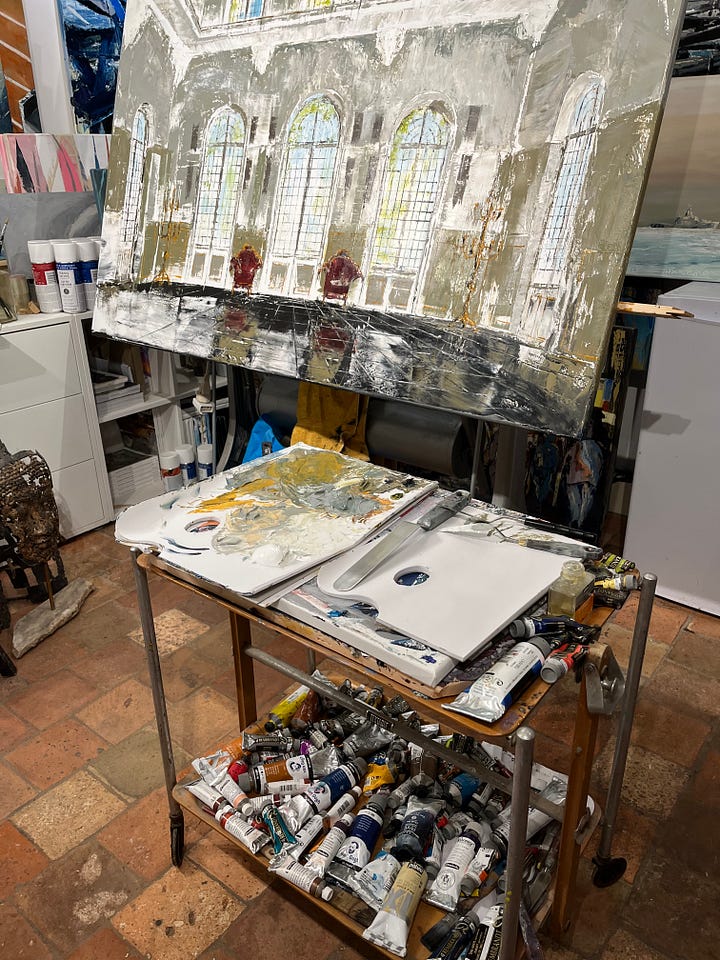 Practical Ways to Create Your Art Space:
I remember when I used to sketch on the couch, and have to shift around to various spots for more comfort. I even took over a corner of my kitchen before finally designating my creative space today. It marked a turning point in my creative practice.
Corner Takeover: Even if you don't have a spare guest room or that extra luxurious space in your home, you can transform practically any corner or small area into your personal art sanctuary. I've been there myself, claiming a cosy kitchen corner as my art hub before I had my dedicated studio. I had a box with my art supplies that could be easily stashed away when I was done. You should be able to easily clean up and move everything aside when needed.

Creative Corners Everywhere: When we don't have the luxury of converting a whole room or your garage into an art studio, get inventive! Try out various setups in unconventional places like balconies, gardens, nearby parks, and even cafes – yep, I've done that countless times. Whether it's in your garden for outdoor creativity or just for a fresh perspective, a new backdrop can be truly motivating.

Portable Studio: Your art can go wherever you go. This setup allows you to effortlessly pick up and transport your supplies wherever you please. Personally, I opt for a lightweight storage box when we hit the road in the van. Plus, when I need a more compact setup with fewer supplies, I rely on my pretty handmade bags.

Art on the Move: When you want the freedom to paint outside your home, having an art bag is ideal. I personally own a handmade bag designed to accommodate my watercolor supplies, as well as a versatile option that I can take with me anywhere. I often switch between my bags based on my destination (I've got quite a collection!), and this variety inspires me to paint outdoors more frequently. It's a fantastic solution for those times when you're short on space at home.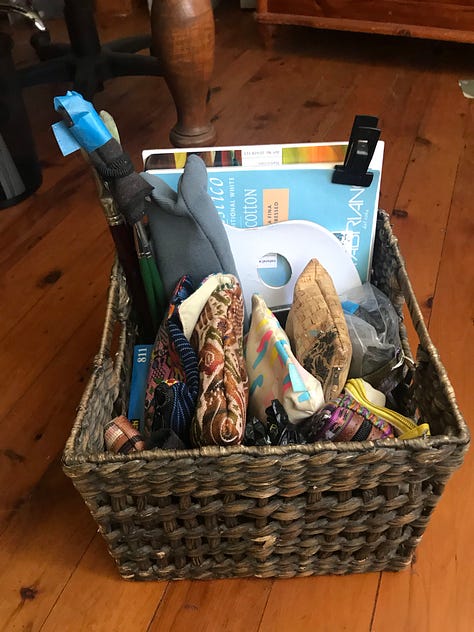 Simplify Your Supplies: Be ruthless with your art materials - especially when you travel! Avoid hoarding or overwhelming yourself with excess supplies that you never use. Less clutter means more space to ignite maximum creativity.

Surround Yourself with Inspiration: I enjoy having illustrated art and designer books, boxes of cards, and various souvenirs that inspire me within easy reach. This way, I don't have to depend solely on Pinterest or Instagram for creative sparks. Sometimes, a glance at your treasured collections (like seashells from the beach, for instance) is all it takes to ignite your artistic flare.

Stay Organised: I'm still working on this myself, but the key is keeping everything neatly in one place to ensure your creative flow remains uninterrupted. Having everything you need within arm's reach eliminates those frustrating scavenger hunts. I keep my most frequently used items practically at arm's length from my desk, like my watercolors, and I've let go of non-essentials like my oil paints. And remember to tidy up your space as much as possible, so you're all set for the next creative session. Less clutter paves the way for creative juices to flow freely and energy to thrive.
Keep in mind, art doesn't need to demand your entire day. Begin with a mere five or thirty minutes, whether daily or weekly. The magic happens when you take that initial leap.
And if you find yourself in a confined space, you can opt for watercolors — they're light and easy to clean afterwards. I never stop reminding myself that the beauty lies in its simplicity – just keep a small bag or box of art supplies within easy reach, making creativity effortless.
So, why wait for the perfect studio? Claim your space, embrace spontaneity and unleash your creativity. Let me know how you go….
Now, how have you cultivated your creative haven?
Happy Surprises is a reader-supported publication. To receive new posts about my upcoming 100-day project and to support an independent artist, consider becoming a free subscriber or sharing this post. Thank you!